When the hunting season opens, you might not want to use a new pair of boots. Why? Because you will not like the boot's status when the season is over, they get wet both inside and outside, and putting your feet in those boots is really uncomfortable, which makes you distracted from hunting. Well, you know that is the old story, because now, hunting boots are much improved and designed to avoid problems like that. In this post, I will give you some choices of the best hunting boots for 2016 from the manufacturer IRISH SETTER.
Irish Setter, which is a line of boots, was created by Red Wings company in 1950 and quickly became one of the biggest boots manufacturers after 60 years. It comes in the market with 2 categories: Work boots and hunting boots, which can be used in any situation you like but they also still specialized in what they are supposed to be. Hunting boots of Irish Setter is believed to be the perfect choice for every job.
Irish Setter has introduced new hunting boots that I think you would love to see.
Irish Setter Vaprtrek
The first thing you are impressed with this line of boots probably is the strong and manly look. These boots are easy to put on or take off, and they fit your feet perfectly. With the Ultradry Waterproof System technology, you can walk all day in any kind of conditions without any discomfort, and your feet are kept in dry and warmth. They are also much lighter than the old versions. That is why both men and women like to buy these awesome boots.
Like I said before, these boots can be used in any job you like, playing football as an example. I have played football on these boots and feel very comfortable.
Irish Setter's lace-up snake, non-insulated boots
With the unique Snake Guard Technology, Ultra Dry, these boots keep your feet safe from thorns, fangs or some nasty elements. They are absolutely waterproof. Many turkey and rattle hunters have chosen them for the best decision.
Irish Setter Deer Tracker:
Another awesome boots from Irish Setter! You can run all day through any hard rocks, slumps, or any conditions, your feet are still comfortable and dry. The stand out feature is on the aggressive soles which are stable and strong, but not too stiff. They are also lightweight, waterproof thanks to the RPM Technology.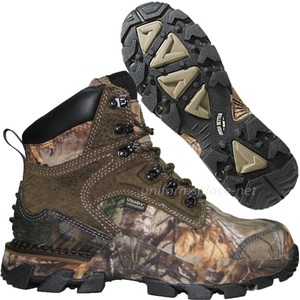 Beside many boots from Irish Setter, there are also plenty of choices for your feet from other manufacturers that I would like to share with you:
Original MuckBoots Adult Field Blazer Hunting Boots
 These are the product of a perfect combination from rubber and fabric, which make a longer duration of using. These amazing boots are not only waterproof but also able to against dangerous bites from snakes. So if you are living in a snake country, your feet can be protected while you are hunting.
LABO Men's Brown Winter Snow Hunting Boots 
Here are the boots you won't regret when buy them. They are made especially for hunting. They are waterproof, slip and oil resistant. You will have an insulated insert and your feet will be dry and warm in these boots, even when you step on a slushy pond.
These boots are strongly recommended by any users who have worn them.
Baffin Hunter Waterproof Boots
Anyone who used these boots is satisfied with them. The material used to make them is high quality rubber that can stand for long periods of time. Thanks to the nylon collar, toe guard, drawstring closure, these boots are truly your best feet guard that you have ever had.
Danner's Hunting Boots
Danner is one of the most quality boot labels, so you can totally count on their products. These boots can satisfy anyone, including the hardest person. You can walk, run, jump or anything you can, these awesome boots are still strong after a long time used.
 Guide Gear Thinsulate & Ultra Insulation Monolithic Waterproof Boots
Your must-have-daily-life-boots if you like the activities outside! These boots are covered by water resistant materials so you will get rid of the frozen feeling on your feet. You just have to concentrate on the hunts, no need to be worried about your feet because they are protected by these boots.
Bogs Men's Classic High New Break Up Boots
They are made in order to bring the best experience to users. The design is loved by many people. In addition, they are warm, comfy, waterproof and protect your legs in any conditions, thanks to the high shaft.  This is one of the most popular lines of boots that you would love to suggest your friends.
Kamik Men's Nation Camo Hunting Boots
From the 100-year-old Kamik label, they deserve to be called the boots of dream. Thus, they are enemy of water, and cold weather. They have everything you need in a pair of boots: waterproof, moisture wicking, rubber sole, antimicrobial footbed. They are the perfect choice for you in the winter hunt seasons. The greatest thing is you will find no leaks or any problems after a long time using these boots.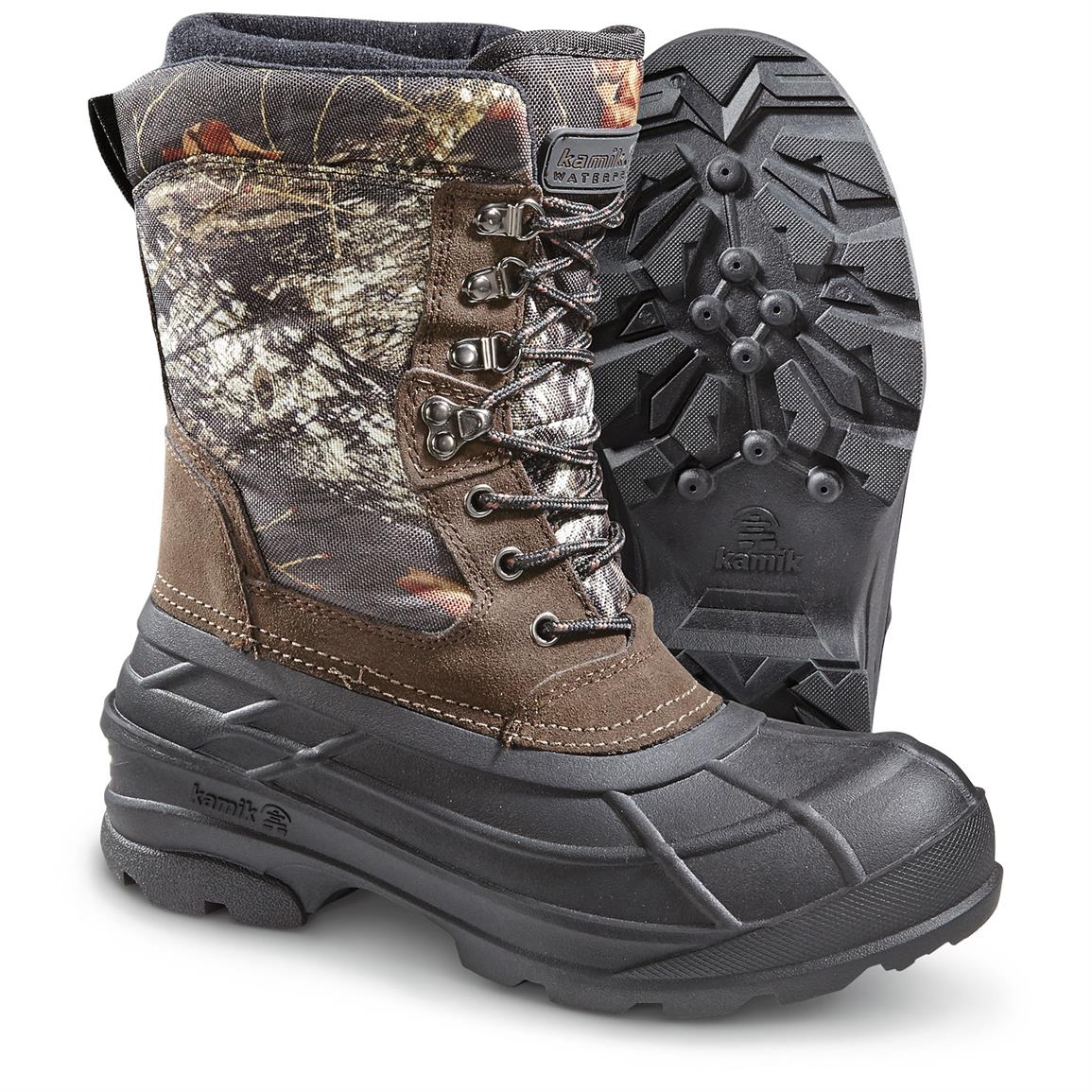 LaCrosse Men's Alphaburly Pro Hunting Boots
At first, they have out-standing looks! You can't ask more from such a perfect hunting boots like these. Most of users spend their compliments for them: Excellent, Awesome, Great Boots! The unique feature is their buckles on the trap hold tight your legs. Second, the time seems does nothing to these boots because they still stand well after a long time being used. I think with all features in one pair of boots, these boots are worth the number one title.
Northside Men's Renegade Waterproof Insulated Hunting Boots
What should I say about these boots? They are perfect for hiking and hunting! They fit perfectly, dry and keep your feet warm. The leather cover brings them a manly look. You can walk all day on these boots and still feel comfortable, thanks to the synthetic sole. Your feet will be protected from any kind of conditions.
There are so, so many other great boots that I want to tell you more. But you know, we just only have two feet. So, it is up to you to get your best boots. I hope you would find useful information in my post. Thank you for reading.
My name is David S. Boone. I like outdoor activities such as hunting , fishing , and other outdoor sports . I'm happy to share my knowledge with everyone.