Volleyball is a sport which required flexibility, jumping technique and team working skill. For some people, they want to increase the height though sports. Volleyball is one of the most useful sports help you to reach your dream into reality.
In order to play volleyball, you should have at least some basic skills with you. Here, in this article, several basic guidelines for you as reference brings you close to or play this sport.
Volleyball drills are something you need to go through as a training course for you, from this, you would save your time yet still fully learn the basic skill.
Wall Hitting
It is just as its name, it is when the players try to hit a certain spot on the wall, they need to picture out or even drawing a circle in the wall to hit it. This step is important for the beginner to improve their focusing skills such as specific hitting angle. Wall hitting is a very needed first step for every beginner on how to proper hit the ball with their hand.
Toss and Pass
This is a process of improving and controlling the strength to have an exactness of hitting.
The beginners need to control their hitting strength to pass the ball to opposite people.
The distance of your ball depends on your starting power.
Plus, this step helps the players to make up a property ball hitting skills, as for how to have fingers holdings or handled suitable for each and every people.
Wall Block
The difficult level of wall blocking for a beginner is pretty hard.
It required an only certain spot of your hand touch to the wall, and nothing else of your body's going to touch the wall.
Wall block is definitely a usefully technique to make it easy to your teammates to attack and minimize the many of a competitor to your team.
Line Passing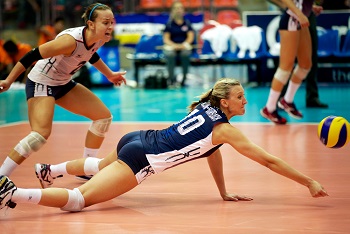 Line passing is required people separate into 2 teams and standings face to face to another team. Each of the team should have at least 4 persons, it must comply with the ball passes from a teammate.
The one who get the ball and should pass it to opposite team to change direction and speed. Passing is high technical delicate and requires your hand coordination and finger control, and your wrist to make up a standard route, speed, down pointing…
A teamwork is the important topic of line passing, all of the member in the team need to understand others' moves, positions, skill, ability… as to come out the static and plan for every member, supporting and assisting to have a perfect strategy for a team. Several drills for the team:
Two-six: it is when the players need to specialize certain skills for their mates as training the other two mates the defensive skill
One-one: net places between two players within a playing field, by a certain strength of their forearms, the player passes the ball to opposite side over the net. This stage would be a process of endurance improvement and learning on how to hit the ball to another player via a net.
Two-two: learning on how to hit the ball over opposite direction, then moving to work as a group with another player. In which two players hit the ball against the other twos. The players need to communicate with their partner in the group to understand the strength and weakness so that they could able to work together.
Movement and Skill-Specific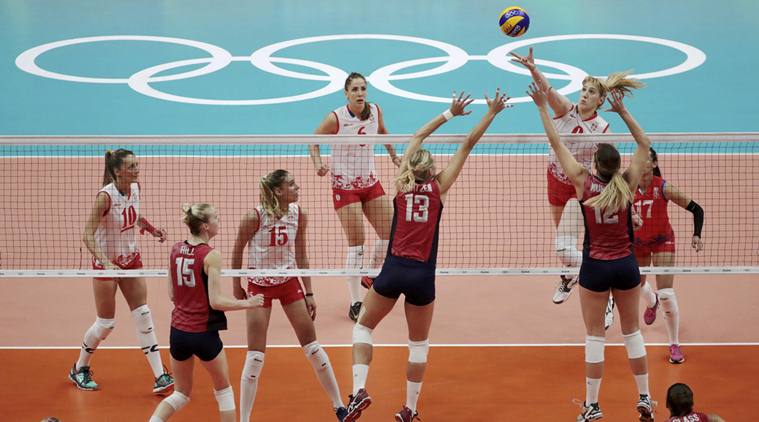 There is no one step to be an excellent player unless you have gone through a harsh training and drills. No one is born to be an athlete. All training drills will nurture you to be skillful and bring your dream into reality.
In volleyball, there are a lot of skills and techniques for you to learn about such as blocking, spiking, diving, developing and some more. As volleyball players, learning how to proper and combine that skill is significantly important. Take follow drills as your reference:
Progressive Serving
In this step, the players divide into 2 lines and stand opposite to each other. The players pass the ball behind the court's line and bring it to another player.
Setting drills
There would be a net between two groups, each of the group tries to hit and pass the ball to opposite players. In this stage, the players get to know to estimate the propriety height of ball hitting, as for how to let the ball overcome a net and reach to another team.
Spiking Practice
Spiking is a major mode of attack while playing volleyball. The players have to keep the distance of 2 – 3m away from the net, and moving around for easy adjustments if there is needed to jump or run.
Volleyball Conditioning
Regularly playing volleyball would help you strengthen your health, especially endurance, and stability. You have skills and techniques, so now you are going through the drills with your team
Consecutive Attacks
In this stage, the player who in charge of a ball hitting, they have to complete a certain number of hitter spikes needed, normally it comes to 10 spikes. It does not matter what condition they are in since they have been taught and in charge, they have to complete their task.
Rotating Triangle
A group of 3 players stands in a triangle position, they alternately pass the ball to another player. The players need to changing their positions in the meantime the ball is hanging in mid of the air.
Pop Ups
We all know pop up ads during commercials ads or something similarities. The Same concept as the advertisement, the players have to jump up from the position of lying on their stomach with a whisper signals. Through this drill, the plays are able to increase their speed, stability, reflexes and strengthen.
It's just like any other sport, a little bit preparation is a must. Here some practices for you
Warm up: you need to let your body ready to exercise otherwise you will suffer from muscle aches.
Practice Daily: everyday practice does really a big step for you to be a good player.
Repeat: repeating your drills and exercise frequently, let your body and muscles used to the drills and training so that your body will be more flexibility in every positioning.
Perfection matters happen when continuously practicing and reach your perfectly perfect.
Studying non-stop allows you to improve and easily adapt to every new move and practice. Plus, you can defeat your competitors with your own combination skills.